The importance of facade sealing
superadmin
Sealing the facade of the building
facade sealing the exterior of the facade is one of the engineering principles and an integral part of the project. The penetration of cold and hot air as well as water into the building will reduce the comfort of residents and increase fuel consumption by up to 25%.
Sealing and sealing the facade of the building according to the climate is as follows:
Replacing glass and sealing and sealing the facade of a glass building with special adhesives resistant to uv at a height without the need for scaffolding
Replacing the opening openings of the facade of the frameless building and the facade of the Curtin Wall building at a height
Complete waterproofing of structures using nanotechnology
Cover the seam of the building
Reconstruction and restoration of building facades
Staining and cementing at height
Building Facade Insulation (Moisture Insulation, Heat Insulation, Sound Insulation)
Strengthening and waterproofing the exterior surfaces of the building against atmospheric factors (closing the facade of the building, filling the space between the stones with mortar of the same color to prevent water penetration into the facade of the building)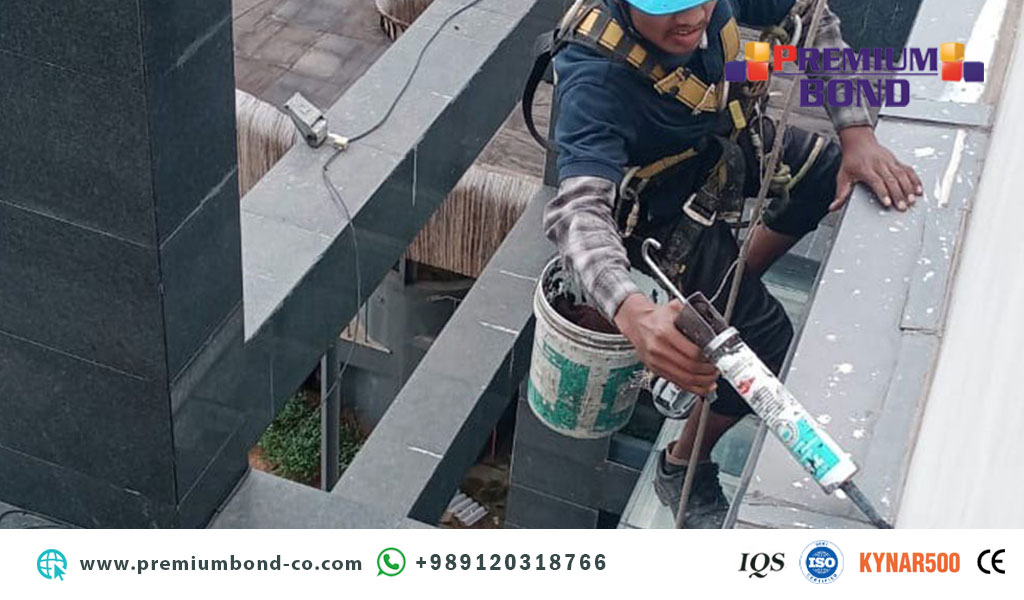 Composite Facade Sealing 
The problem of water penetration in composite facades is related to seams.
Their rubber seals have lost their effectiveness.
Polyurethane adhesive, known for its high resistance to moisture and sunlight, is used to seal these joints.
In order to seal these facades, the defective tires must first be removed
Then clean the seams that need to be sealed and fill them with polyurethane glue.
Because the adhesion of these adhesives is very high
And in case of contact with facade composite, cleaning it requires a separate project,
The contractor must first cover the edges of the composite sheets with paper glue
And after applying the polyurethane, remove the paper adhesives.
In this case, if the polyurethane adhesive is poured on the facade
By removing the paper adhesives, it simply disappears from the facade of the building.
In the final stage, healthy tires must be installed to complete the sealing of the building's facade.
برای امتیاز به این نوشته کلیک کنید!