3D Panel Aluminum composite panel
Premium Bond Aluminum 3D panel is a patented aluminum lightweight panel, which is thanks to its sandwich structure very light and has a high bending resistance. Premium Bond Aluminum sandwich panels are perfectly well suited for elements with an appealing surface and also as substrate for sophisticated surfaces. Especially when Premium Bond 3D lightweight aluminum panels are used in large dimensions, high weight reductions can be achieved. Compared with solid aluminum of the same statical performance, Premium Bond aluminum sandwich panels offer weight savings of up to 80 %.
Premium Bond Aluminum 3D panels is produced in a continuous production process, where two cover
sheets are glued to a 3D aluminum sheet. Premium Bond Aluminum 3D panels are available in different
designs, which can be adapted perfectly to different applications. By adjusting the cover sheets, 3D thickness
and surface coating the characteristics of the aluminum sandwich panels can be adapted to the particular
requirements.
The specific design of Premium Bond Aluminum 3D panel ensures a high static and dynamic stress
resistance. Selected alloys and anti-corrosion lacquer even on the inner surface of the sandwich provide high chemical and physical resistance.
Advantages:
lightweight aluminum panel with 2 cover sheets and a 3D core.
very light and rigid (same statical performance than solid aluminum but up to 80 % lighter)
high corrosion protection because all aluminum sheets are pretreated with a primer.
for serial production: cover sheets, thickness of 3D and surface (on request also powder-coatable) can be
customized.
100 % recyclable without material separation. In addition, the proportion of secondary aluminum is
approximately 90 %.
excellent thermal conductivity and good sound absorption.
absolute flatness: its perfect flatness depend on its special core structure bearing surface.
high fire protection classifications for different areas: 100% metal structure , there will no any toxicant create
when burning.
production in a continuous manufacturing process.
simple processing of the material with standard tools.
Light weight: it is the most light metal decoration materials, there are only 3.6kg/m2, will be more safe when
use on celling or the curtain wall.
High strength: there are no deformation found when 170kgs objects on front.
Water resistance: 100% metal structure, there will no any toxicant create when burning.
Design Specification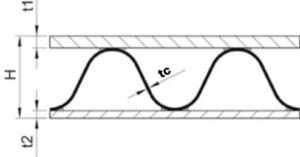 t1 – thickness of top cover sheet
tc – thickness of core sheet
t2 – thickness of bottom cover sheet
H – panel overall thickness in millimetres