D-PE Aluminum composite panel
D-PE Aluminum composite panel
consists of two sheets of corrosion resistant aluminum permanently bonded to
polyethylene core material. The upper aluminum coats double Polyester paint due to
weather resistance and useful for outer facades too. Because of its excellent shining color
and other more features, the D-PE panels become very popular and economical cladding
materials in the world markets which are used for billboards, metro stations, petrol stations
and so on…
Some like the originality of the design, some appreciate the quality level offered (guaranteed by several awards and certifications) and others are interested in the introduction of
innovative new products and result of extensive research and experimentation performed by our research department.
Applications:
interior wall paneling with 20 years guarantee, exterior wall paneling with 8-
10 years guarantee  , door panels & frames, exhibition & display stands, metal ceiling & partitions, shop fronts & signage ,kitchen , furniture and so on.
Features:
PREMIUMBOND
Panel thickness
: 2MM, 3MM, 4MM
SKIN
: 0.1MM ~ 0.3MM
Coating
Double Polyester paint (D-PE)
Dimension
width: min: 1000MM, Max: 1570MM

Length: min: 1000MM, Max: 6000MM

Bow
: +/- 0.5% of length
Square ness
: +/- 0.5% of length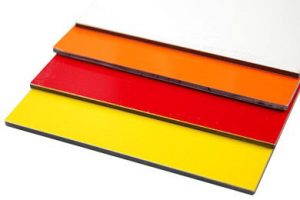 ---
Click to view the color chart of Premium Bond Composite Aluminum Sheet.